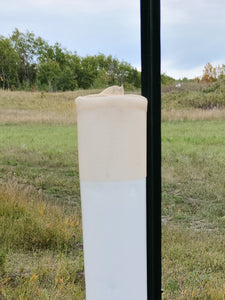 Nets are recommended for 48", 60" and 72" protectors only. They are usually not necessary for smaller sizes. Installing protectors without Bird Nets is hazardous to bluebirds and other insect-eating birds. Installation is fast, simple and the responsible thing to do. Simply slide the net over the top of the protector.
Without bird nets, birds trapped inside protectors will not only die, they can also destroy the tree as they try to escape. Please inspect your trees periodically to make sure the net is in place.
The mesh must be removed before the tree emerges from the protector; otherwise, they can deform the tree.
Bear Tolerant
Planting a bunch or trees at the ranch. Easy to install (purchases the 5' white stakes too). Survived a curious bear encounter last week so I'm sold!
The mesh works well, but I wish it came in smaller packs
The mesh itself is very good quality and fits nicely on the tubes, and stays put. I just wish there had been a pack with fewer protectors at a lower price point, since I only needed a few and now have ~45 I don't know if I'll ever use.