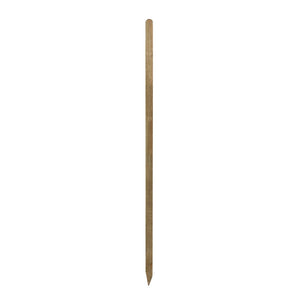 Your Grow Tube is as only good as your Stake
Our Grow Tubes are designed for a stake of the SAME SIZE (ex. 48" Grow Tube uses a 48" Stake)
White Oak Tree Stakes
White Oak Tree Stakes are the standard in the forestry industry. White oak is has a tight grain and  rot resistant. White Oak Stakes can also be driven into hard, rocky soils that Treated Pine and Plastic will not always drive into. 
Mike Lepisto, order 600 stakes
Of the 600 stakes ordered and received, 10 were cracked and split, 4 curved and were not useable. Rest - 586/600 were good and worked well. Overall vert pleased.
Hey Mike
Sorry about the few stakes with issues. We have sent some to replace the ones with issues.
Please just reach out next time so we can make sure your fully satisfied with the order.
Have a great day.
Clinton
Best tube stakes, period.
Solid oak stakes drive into my rocky hard ground with zero issue. Pine stakes break and warp and rot quickly. Buy these stakes; you will not be disappointed.