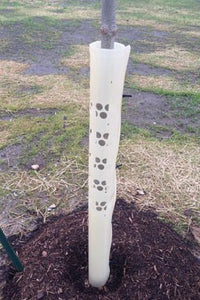 BARK PRO is a tree protector designed to protect trees that are already established.
Works great for nurseries who are looking for a solution to protect the trunk in shipping.
Bark Pro protects your valuable trees while allowing fresh air and sun to reach the trunk. One inch vents are strategically placed allowing the element to reach the trunk while completely protecting the base from deer rub, rodent, weather, weed eater, and chemicals.
Features:
1 Quantity is 1 tube
Minimum order of 5
Ships flat
UV stabilized for 4+ years
Made from 100% recycled materials
No stake required for trees that support themselves.
Protection
Very easy to work with. Great protection from deer rubs & rodents
Bark Pro
Great product. Quick and easy to install.